Brainpalace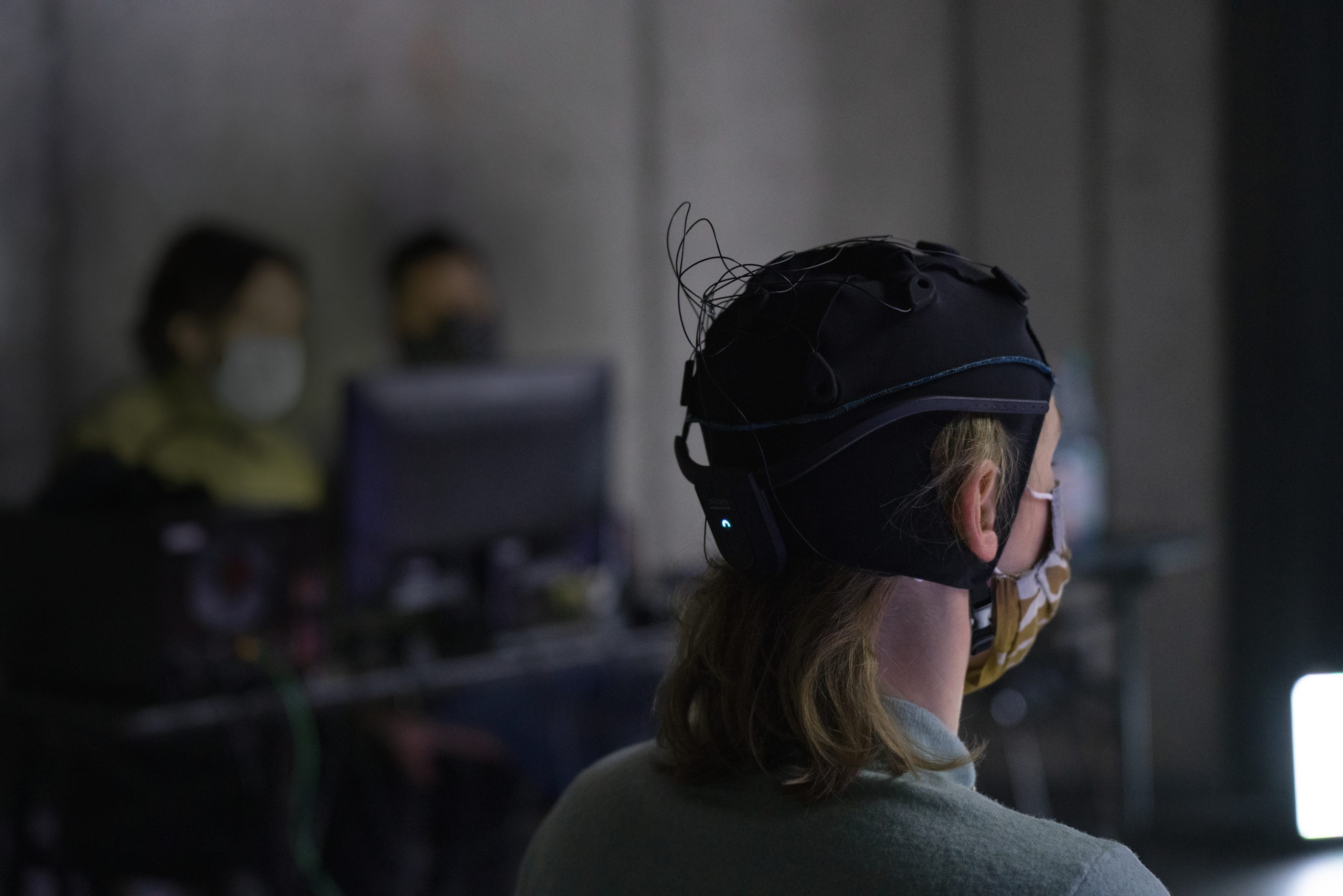 Dr. Laura Kaltwasser advised the interdisciplinary project BRAINPALACE scientifically, applying neurofeedback at the interface between art and society in collaboration with STATE Studio Berlin since 2020. Importantly, as she is an expert in social neuroscience, applying techniques as diverse as electroencephalography (EEG) with structural equation modelling (SEM), she consulted the project from a neuroscientific perspective. More specifically, her work in the project included behavioral and neuronal data acquisition, data analysis, and the interpretation of the results within a broader framework of the biopsychosocial model, informing the team of BRAINPALACE about the most recent developments in the scientific community by providing scientific literature. She presented the first two phases of the project, by giving a multimodal presentation of BRAINPALACE #1 and #2, at the conference of the International Society for Research on Emotion (ISRE) taking place at the University of Southern California, Los Angeles, USA from July 14-18, 2022 (see conference abstract and video below). Regarding the behavioural data acquisition she designed a pre- and post-experiential questionnaire to be applied before and after the experience of BRAINPALACE. Regarding the neuronal data acquisition she discussed with the team potential electro-physiological target variables, she had previously assessed in her own laboratory, to be applied and tested in the field, i.e. the gallery and museum. Dr. Laura Kaltwasser and her team from the Berlin School of Mind and Brain also provided part of the audio stimuli for BRAINPALACE, more specifically voice-overs for the light and sound installation designed by the collaborating artists Tatjana Busch, Daniel Dalfovo and Christian Losert. Last but not least, in close exchange with the neurofeedback experts Dr. Mathias Vukelic and Ravi Kanth Kosuru (Fraunhofer IAO) she evaluated the experimental set-up of BRAINPALACE and is involved in the current data analysis of the project, leading into the project BRAINPATTERNS in collaboration with Hans Trinkhaus from Fraunhofer ITWM.
Abstract: Brainpalace – bringing affectivism into artistic neurofeedback to foster empathy
Laura Kaltwasser1,5, Tatjana Busch5, Christian Losert2,5, Daniel Dalfovo2,5, Ravi Kanth Kosuru3,5, Hans Trinkhaus4,5, Mathias Vukelic3,5, Christina Hooge5, Lea Göhring5, Dorothée Höfter3,4,5,6, & Christian Rauch5
1: Berlin School of Mind and Brain, Humboldt-Universität zu Berlin, Germany
2: ATELIER E, Berlin, Germany
3: Fraunhofer Institute for Industrial Engineering IAO, Stuttgart, Germany
4: Fraunhofer Institute for Industrial Mathematics ITWM, Kaiserslautern, Germany
5: STATE Studio Berlin, Germany
6: Project Lead, Fraunhofer-Gesellschaft for Applied Research, Munich
The developing digitalization of all areas of our lives may face us with affective states of increased fragmentation, individualization and loss of communality. Longitudinal studies suggest that while empathy has been sharply declining in the general population in the last decades, loneliness is on the rise. On the other hand, our own voice and beliefs are amplified in social media bubbles, political radicalization and populism driving people apart. Empathy, i.e. the ability and motivation to imagine and share the feelings and attitudes of other people, is increasingly lost as a cornerstone of functioning communities.
The artistic research project #brainpalace with artist Tatjana Busch addresses the question of social cohesion and togetherness and asks: "How might we nurture empathy and togetherness through artistic neuroscientific interventions?" The light installation in combination with methods of neuronal feedback promotes the strengthening of empathy through emotional synchronization. To bring this installation to life, media artists Christian Losert and Daniel Dalfovo designed a multimodal light and sound installation unfolding with the EEG signals of the visitors and their synchronicity. From there an interaction between artwork, space and visitors both sonically and visually is generated.
By presenting a multimodal flash-talk of #brainpalace at ISRE2022 preconference, we suggest an alternative approach to the inclusion of affectivism into culture spanning disciplines such as art, anthropology, mathematics, neuroscience and science communication.
For more information, please visit: https://brainpalace.org